About EEN2EIC
A new bridge between the Enterprise Europe Network (EEN)
& the European Innovation Council (EIC)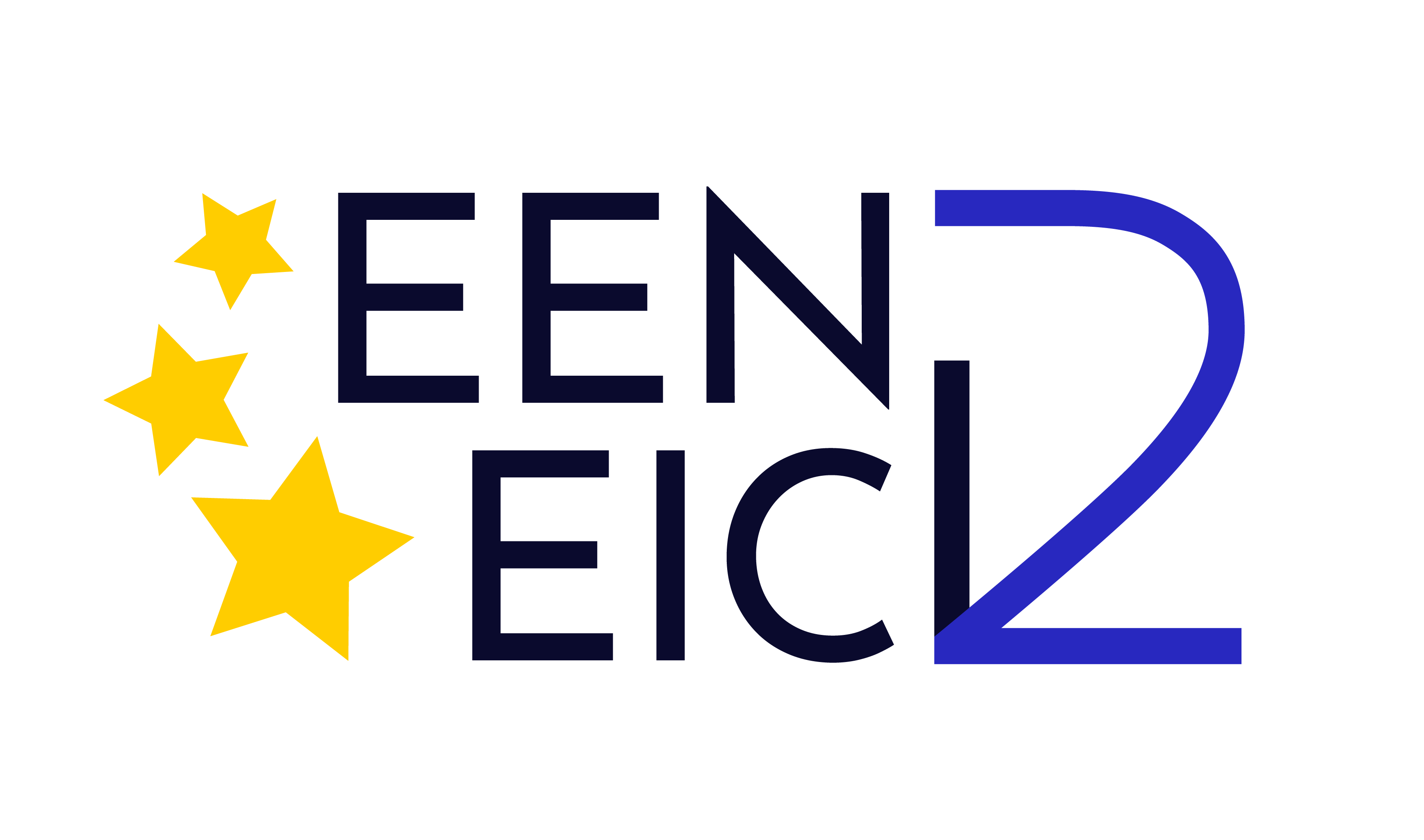 The EEN2EIC (Enterprise Europe Network to European Innovation Council) project aims to extend the breadth of supporting activities EEN can provide to women entrepreneurs, widening countries and Seal of Excellence (SoE) holders. The goal is to create a bridge between the two projects in order to support innovation, scale up companies and involve the most relevant actors in the EIC and EEN landscape.
EEN2EIC Objectives
EEN2EIC overall objective is to make EU innovation support more efficient by improving the capacity of SMEs to apply to the EIC and by helping Seal of Excellence (SoE) holders finance their projects and to avoid overlapping with NCPs activities.
The project aims to develop a strong cooperation mechanism between the European Innovation Council and EEN in order to support innovation and scale up companies. The focus of EEN2EIC is to empower EEN network offices to support potential EIC applicants, increase the number of quality proposals to EIC calls with a specific focus in:
Widening countries
Third countries associated to Horizon Europe
Women-led innovative companies
Seal of Excellence 
The identified focus groups will be assisted to access alternative sources of funding and get a strong and profitable exchange of best practice within EEN.
Problematics
Statistics over the course of the past years since the launch of the EIC Pilot in October 2019 has painted an overall picture with regards to participation and success rates. Whilst the success rate of proposals funded from total number of eligible proposals have averaged around 2%, the number of proposals from widening countries that are funded is less than 1%, with non-widening countries achieving between 2-4%. The number of submitted eligible proposals is on average 15% from widening compared to non-widening at 85%, whilst of the total of participants interviewed at jury stage, only 7% are from widening countries. EEN2EIC aims to address the gap between widening countries and non-widening in order to improve the quality of proposals in general but also to improve their participation and quality of the proposals being submitted.
The same impact should also be acknowledged for women participants, not only improving their participation but also improving the quality of their application. Of those awarded funding in 2020, over 20% had a female CEO, pointing towards an increasing number of women-led startups in the programme. Thus the concept of this action is to use the proven and established capacity of EEN to make EU innovation support more efficient by improving the capacity of SMEs to apply to the EIC and by helping SoE holders finance their projects. The concept of this action takes up successful elements of the KAM/EIMC service such as the 3-5 day one-to-one support packages, which illustrates the role of the Network to enhance the ability of SMEs to apply to the EIC, to spread excellence in consulting practice and enhance capacity within EEN.
Benefits
Participation in EEN2EIC project brings value in three different aspects: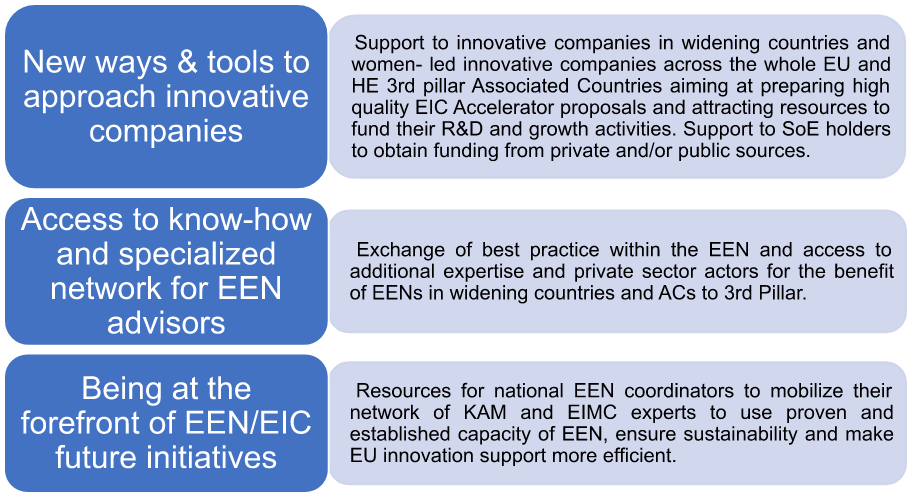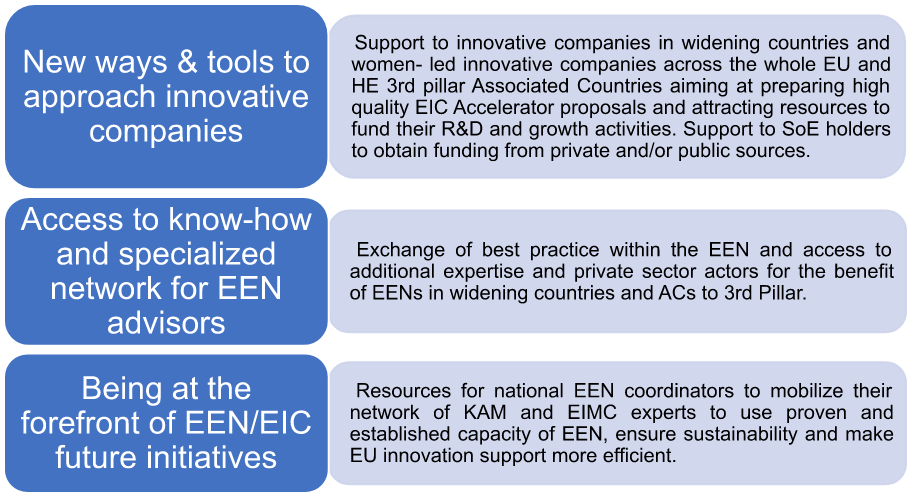 EEN2EIC launches today at 16.00 the first pitching session with Seal of Excellence holders from France. It is a great opportunity for all the companies that haven't received the EIC accelerator funds but has been awarded with the Excellence label "Seal of Excellence" (SoE) to present their projects to investors for alternative fundings. Pitching session […]
Don't miss this opportunity and register to the on line event: https://www.linkedin.com/events/eicaccelerator-step1ittool7100100009974448128/
On the 25th of July 2023 the second deadline of Open call nr.3 for Local Nodes (LNs)was officially closed and the EEN members' candidatures have been evaluated. 7 new LNs have been selected and is joining the EEN2EIC project to support Seal of Excellence companies in Turkey, Kosovo, Montenegro, Serbia and Bosnia Herzegovina. List of […]